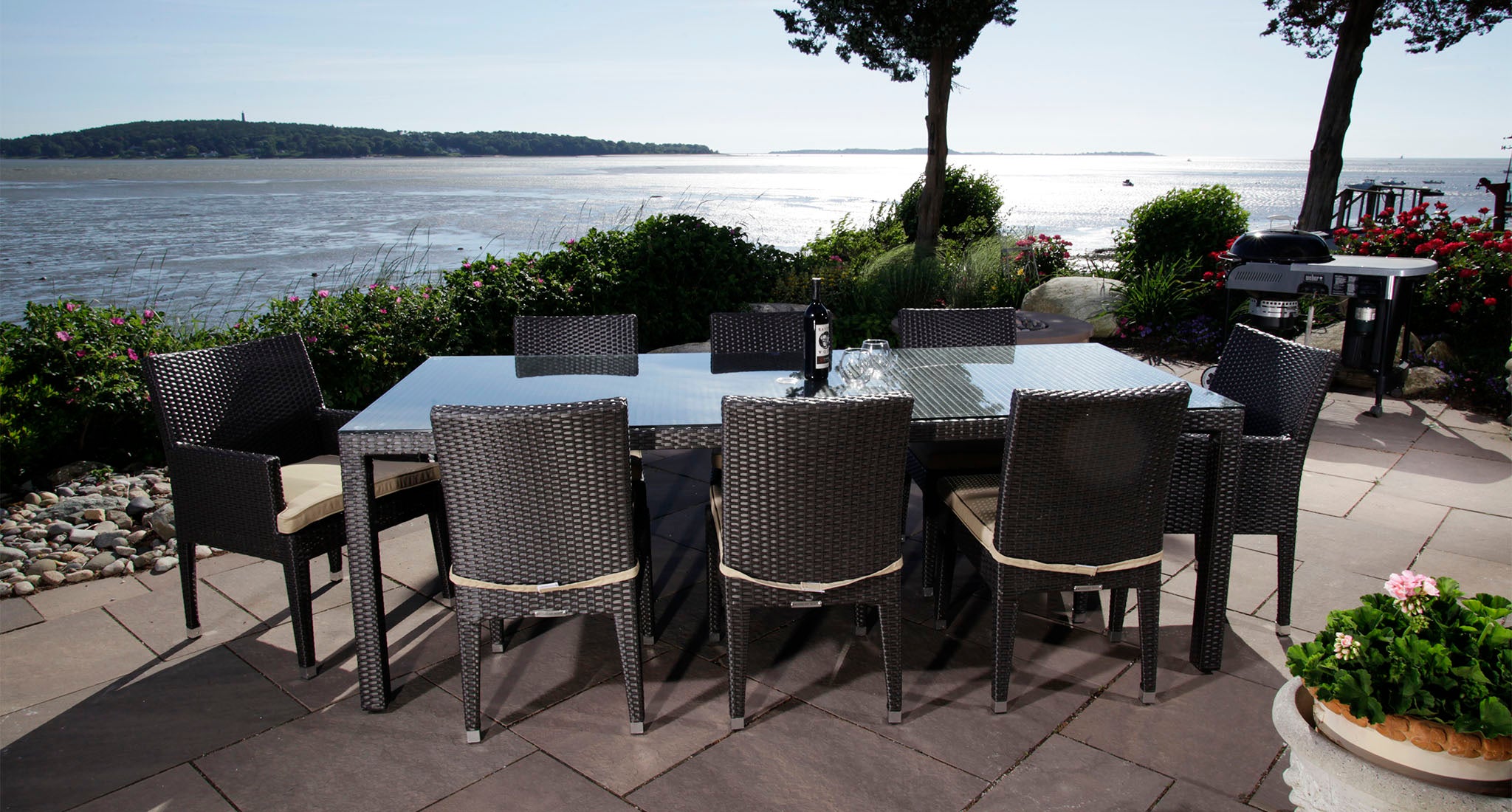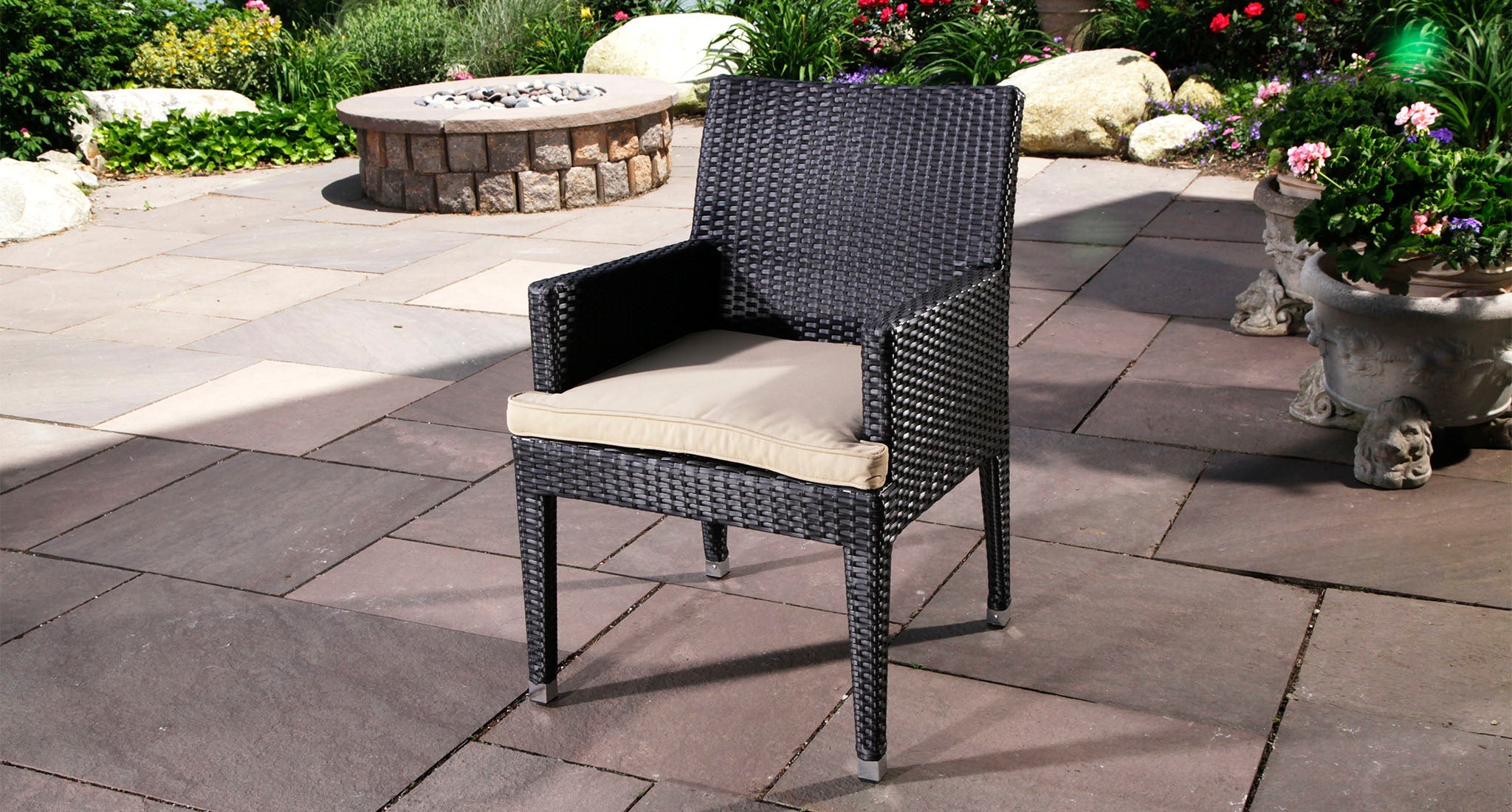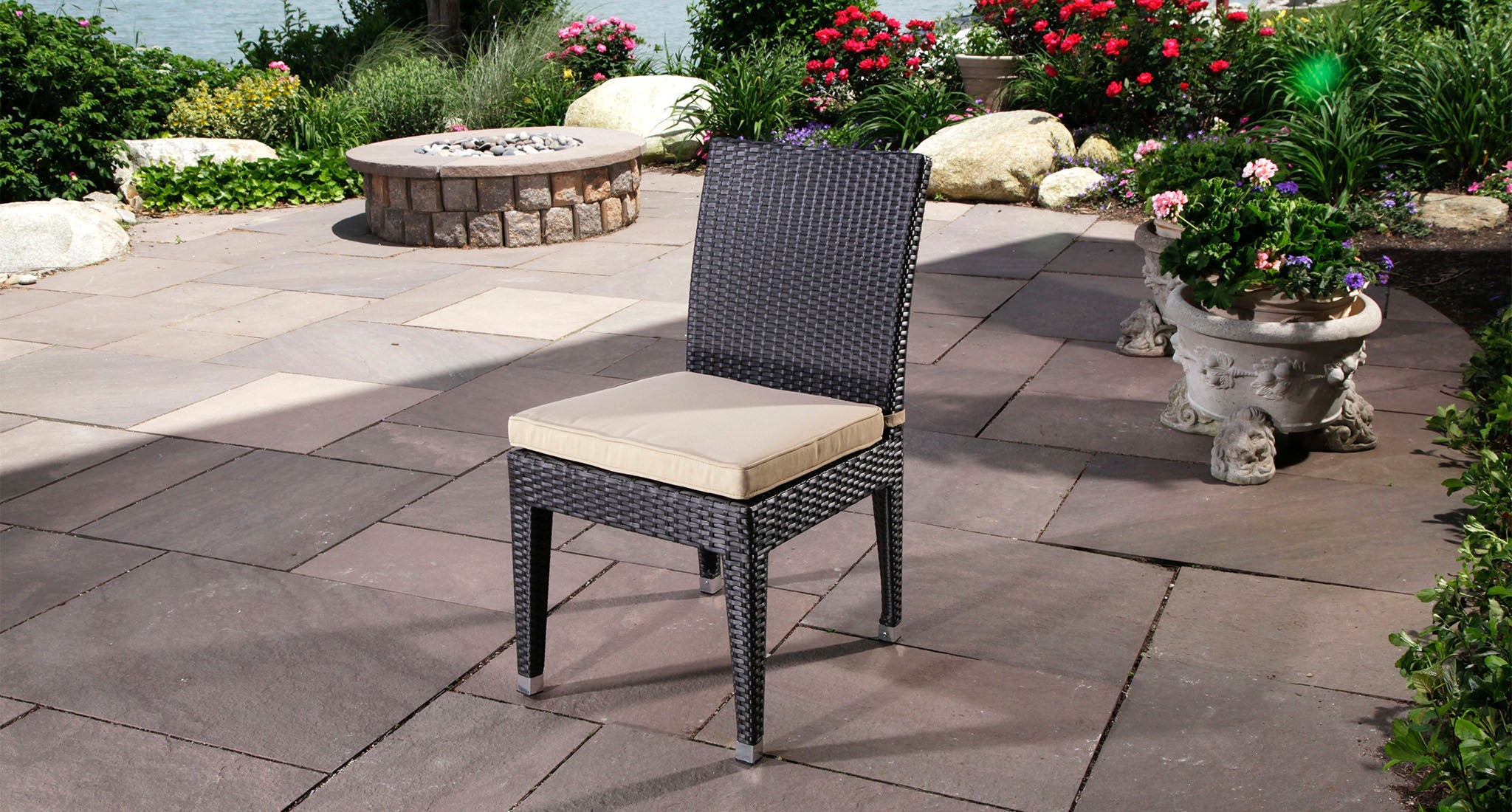 Salina Outdoor Dining Set for 8
Description
Details
Dimensions
The Salina Outdoor Dining Set for 8 is crafted with our espresso all-weather wicker and Sunbrella Spectrum Mushroom cushions. Powder coated aluminum framing boasts a strong, durable, and rust proof base. The set includes a dining table with tempered glass top and standard size umbrella hole, four side chairs, and two arm chairs.
The Salina Dining Set for 8 pairs with any lounge furniture from the Salina Collection.
All-weather wicker or HDPE (High Density Polyethylene) is resistant to the elements and resists mildew, fading, sagging, and staining.

Sunbrella® fabric cushions are water repellant, fade and mildew resistant, and easy to clean.

Powder coated aluminum frames are light, durable and rustproof.

Seat cushions are made of quick drying foam material that circulates air and drains water.

Heavy duty zippers make for easy slipcover removal and machine washing.

Velcro straps wrap around the cushion backs to secure them to the side chairs.

Tempered glass top on dining table for safety and easy cleaning.
Salina Outdoor Dining Set for 8
Product Dimensions
Dining Table – 92″L x 39″W x 30″H

Arm Chairs (2) – 22″W x 24″D x 35″H
Side Chairs (6) – 19″W x 24″D x 35″H
Shipping
Fast Shipping
Whether you want it fast or prefer us to hold it until you're ready, we'll always reach out to coordinate before shipping your order.

LOCAL DELIVERIES - We offer some of the fastest shipping times in the entire furniture industry. If you live within 150 miles of our Rhode Island or New Jersey warehouses, most times your furniture can be delivered in less than 1 week.

NON LOCAL DELIVERIES - If you live outside of our "local" delivery radius, your furniture will typically ship within 48 hours and arrive within 10 business days.
Try Us At Home Delivery Service
The ultimate peace of mind for people living in New England, New York, and New Jersey.
1. Pick your favorite set
2. See it in your space

3. FREE delivery if you like it


Care & Maintenance
How To Clean Sunbrella Cushions
How To Clean All-Weather Wicker
1. Remove all cushions.
2. Wipe down the furniture with a damp or dry towel
3. Hose down to remove pollen or anything that gets caught between the all-weather wicker.
4. Allow the furniture to dry before putting the cushions back on and covering with outdoor covers.
How To Clean Teak Furniture
1. Remove all cushions

2. Wash with soap and water using a brush with soft bristles to scrub the wood.

3. Allow the furniture to dry before putting the cushions back on and covering with outdoor covers.
FAQ
Does your furniture require assembly?
At Madbury Road, only our dining tables require about 10 minutes of assembly. All sectionals, sofas, dining chairs, club chairs, lounge chairs, and accessories do not require any assembly.

Unlike most competitors that ship their products in pieces to your doorstep, ours will arrive ready to enjoy, with no assembly required.
Where do you ship?
Madbury Road offers free white glove delivery and assembly anywhere in New England, New York & New Jersey.

We offer $500 flat rate freight shipping throughout the rest of the continental U.S.
Are the cushions made with Sunbrella?
Yes, all of our cushions are made with Sunbrella fabric.
How do you clean the cushions?
Sunbrella fabrics are easy to clean and most stains can be taken care of with a simple spot cleaning.

Our cushions also have slipcovers that are easy to remove and machine-washable.
Warranty
We take great pride in our products, and amazing care of our customers. With every purchase, we provide exceptional value and extraordinary service. Madbury Road warrants from date of purchase:

10 year limited warranty on all powder coated aluminum frames against structural failure.
5 year limited warranty on all Sunbrella fabrics against loss of color, loss of strength, abrasion, and pilling.
5 year limited warranty on all structural defects for all-weather wicker and teak wood products. 
5 year limited warranty against any major discoloration on all-weather wicker products.
Learn more about our warranty.
High Quality All-Weather Furniture
World-Class Customer Service
Stocked & Delivered in Days