Imagine transforming your outdoor space into a cozy haven for relaxation, dining, and socializing. With the right patio furniture, you can create a stylish and comfortable extension of your home that you and your guests will love. In this blog post, we will guide you through the process of selecting the perfect patio furniture and accessories, ensuring that your outdoor area becomes your favorite part of your home. To help you make the best decision, we present "types of patio furniture everything you need to know" so that you can choose the ideal pieces for your outdoor oasis.
Key Takeaways
Find the perfect patio furniture to suit your outdoor space and style with our comprehensive guide.

Balance comfort and style when selecting pieces for an inviting atmosphere that will last for years.

Enhance your outdoor area with accessories, cushions, rugs & lighting, shop Madbury today!
Understanding Different Types of Patio Furniture Materials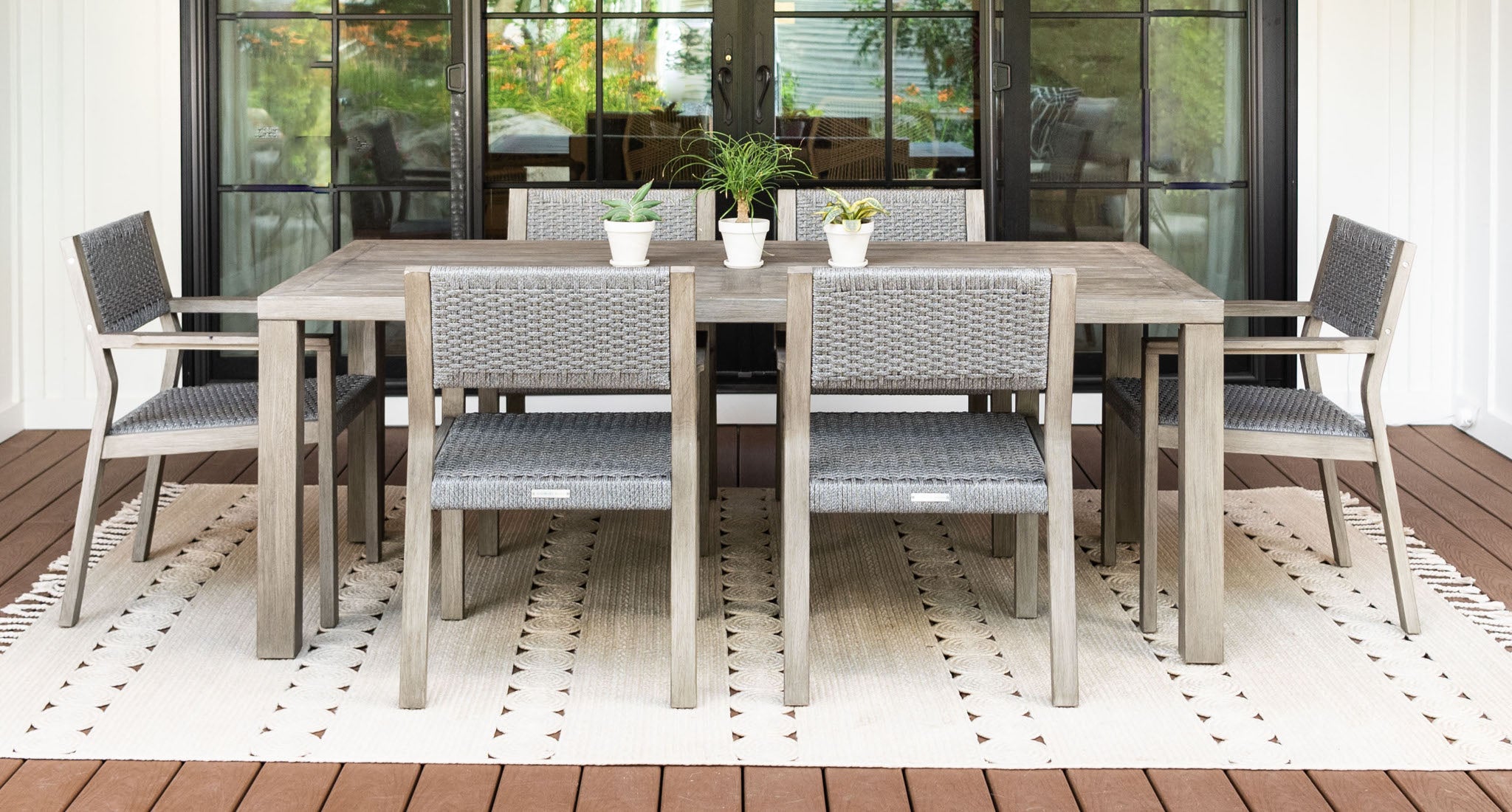 Selecting the right patio furniture starts with understanding the various materials available. Wood, metal, resin wicker, and plastic resin are all excellent choices for outdoor patio furniture, each offering unique advantages and characteristics.
Familiarizing yourself with these materials will aid you in buying outdoor furniture that complements your style, fits your outdoor space, and endures numerous seasons.
Wood
Wood furniture provides a natural and timeless appeal, making it a popular choice for outdoor seating and tables. Among the various types of wood, teak is considered the best choice for outdoor furniture due to its durability and weather resistance. Acacia is a more budget-friendly option that is still widely available.
With proper maintenance, wood patio furniture can last for many years, and annual care is typically sufficient to keep it looking great. Grade A teak is the most weather-resistant grade and requires no regular protective treatments for lasting durability.
When cleaning a wood table, a mild soapy solution or a small hand brush should do the trick for removing outdoor debris and crumbs.
Metal
Metal patio furniture, made from durable materials like steel and aluminum, offers strength and longevity. However, metal furniture may be prone to rust and corrosion if not properly treated. Regular cleaning and maintenance are key to retaining the excellent condition of your metal patio furniture. Always ensure your aluminum outdoor furniture is powder coated so that it is suited to live outdoors.
For example, the Collier Patio Dining Collection is an excellent metal patio furniture option that showcases the material's durability and style.
Resin Wicker
Resin wicker is a modern and lightweight alternative to traditional wicker, offering a stylish and easy-to-maintain option for your patio furniture. This material is designed to withstand weather damage, providing lasting beauty and functionality.
To care for resin wicker furniture, simply follow these steps:
Wipe it down with a damp cloth for regular cleaning.

Hose it down for a more thorough clean.

Cover the furniture when not in use to help preserve the plastic resin from UV damage and prolong its lifespan.
Choosing the Right Patio Furniture for Your Outdoor Space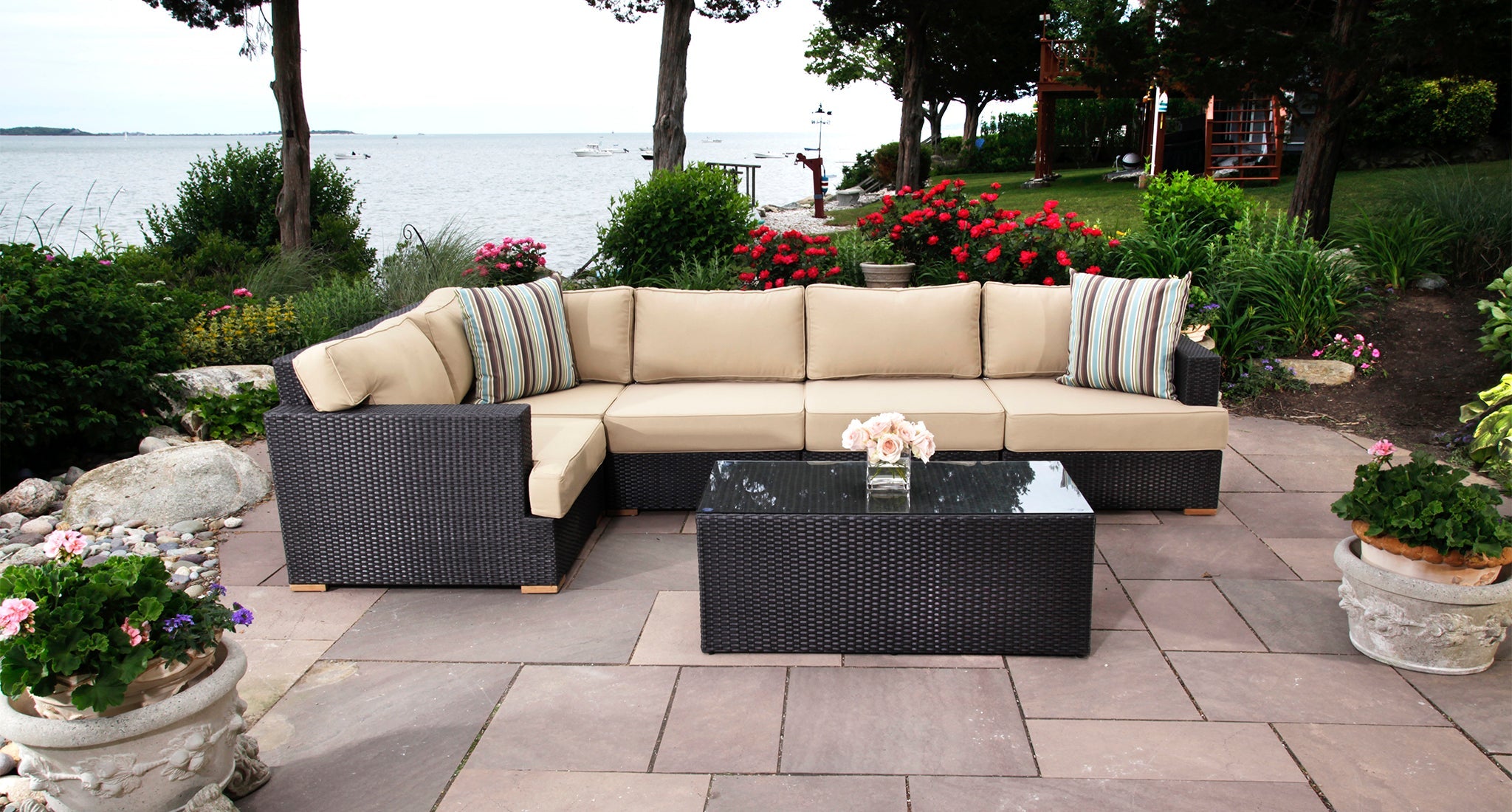 Now that you have a better understanding of the various materials used in patio furniture, it's time to consider how you can choose the right pieces for your outdoor space. This involves assessing your outdoor area, considering function and usage, and finding a balance between style and comfort. Our patio furniture buying guide can help you make the best decision for your needs.
Adhering to these guidelines will assist you in crafting the ideal outdoor setting that mirrors your personal style and fulfills your functional requirements.
Assessing Your Outdoor Area
Start by mapping out the available space in your outdoor area, taking into account its size, shape, and features. This will help you determine the best furniture layout and style for your space.
When selecting furniture, consider the visual weight of each piece to ensure it looks the right size for the area it occupies. For example, leaving at least 36 inches between the furniture and any physical object can help ensure easy access and maintain a balanced look.
To conveniently preview the footprint of a patio dining set or sofa across its intended space, try using painter's tape.
Considering Function and Usage
Think about how you plan to use your outdoor space and choose furniture that meets your functional needs. For example, if you enjoy hosting outdoor dinner parties, a patio dining set with comfortable seating is essential.
If you prefer relaxed evenings with friends, consider the following seating options:
Lounge chairs

Chaise lounge

Benches

Furniture with storage capabilities or multiple uses, such as ottomans with compartments beneath the seat or modular sectional sofas.
These versatile seating options will provide comfort and functionality for your gatherings.
Balancing Style and Comfort
Striking the perfect equilibrium between style and comfort is key when buying patio furniture, including patio chairs, that you'll appreciate for the years to come. Choose materials that are both stylish and comfortable, such as cushions made from high-quality outdoor fabrics. Look for patio furniture designs that are visually appealing while also providing ergonomic support.
Prioritize comfort features like adjustable backrests, padded armrests, and deep seating options to enhance the comfort level without compromising on style. Don't be afraid to mix and match different furniture pieces to create a unique and stylish outdoor space that perfectly suits your preferences and needs.
Essential Patio Furniture Pieces for Various Outdoor Spaces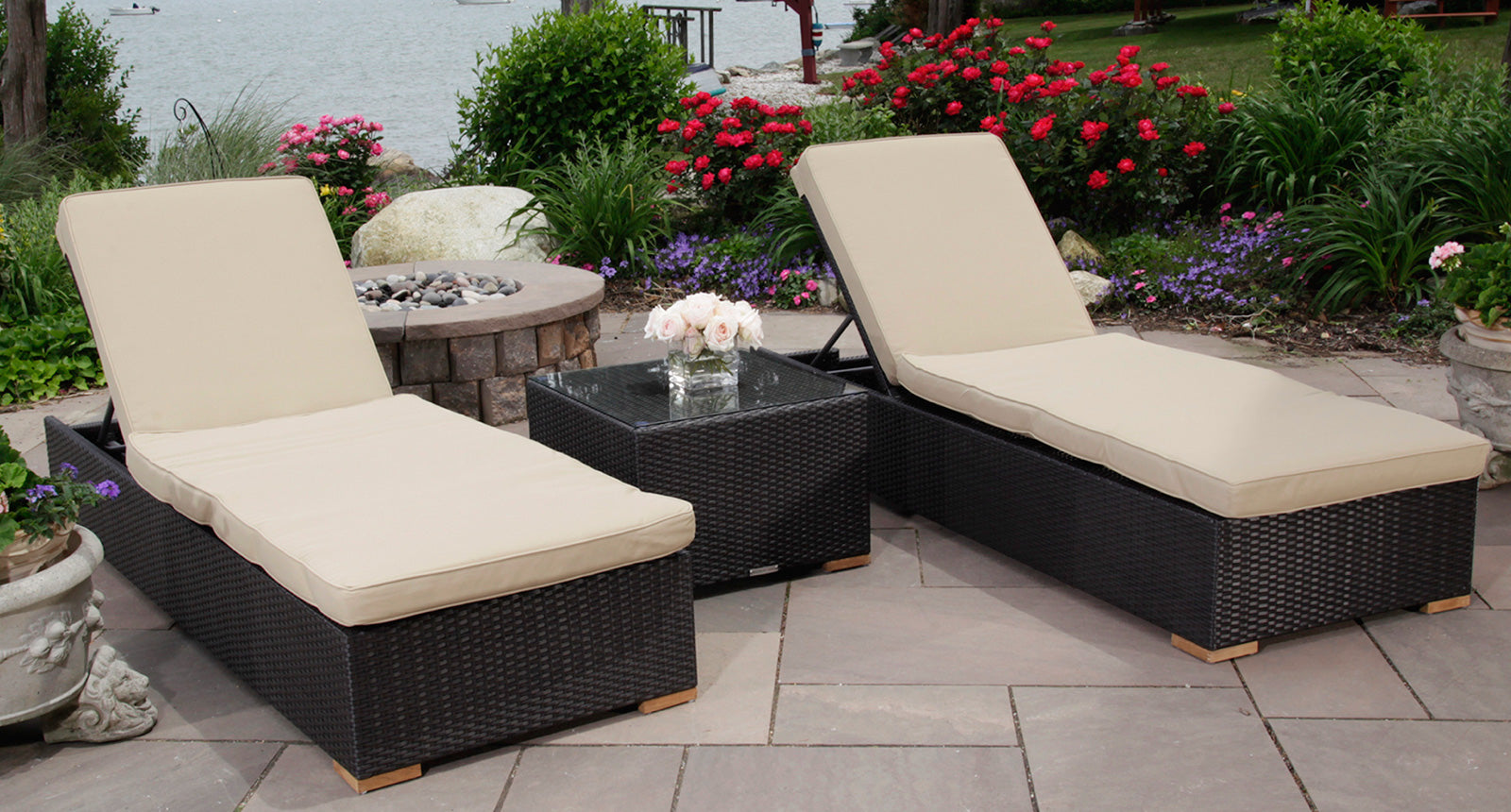 Having identified the appropriate furniture layout and style for your outdoor space, you can now delve into exploring patio furniture pieces that can embellish a variety of outdoor settings. These include:
Stylish dining sets for outdoor meals and gatherings

Comfortable lounge furniture for casual conversations and relaxation

Convenient bistro sets or bar tables for smaller spaces or additional seating options
Dining Sets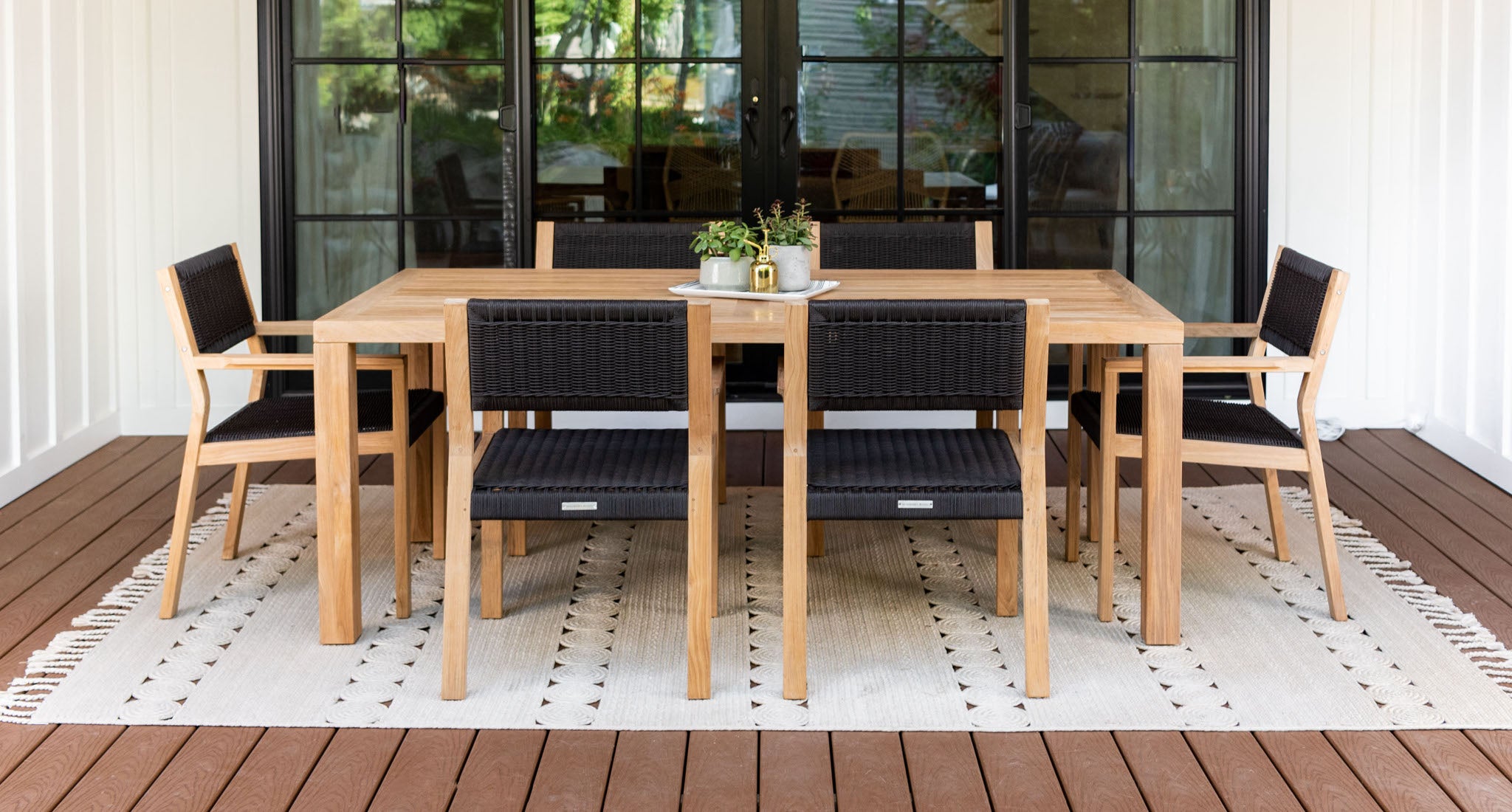 Outdoor dining sets are a crucial component of any deck or patio, providing a comfortable and functional area for sharing meals and spending time with friends and family. When selecting a dining set, consider the size and style of your outdoor area, as well as the number of people you plan to accommodate.
Lounge Furniture
Lounge furniture is perfect for creating a relaxed seating area in your outdoor space, making it an ideal spot for casual conversations and relaxation. Consider incorporating lounge chairs, chaise lounges, and other comfortable seating options to create a cozy atmosphere.
If you have a poolside area, sun loungers, side tables, and umbrellas are a great addition to enjoy your space in style and comfort.
Bistro Sets and Bar Tables
Bistro sets and bar tables are an excellent choice for smaller outdoor spaces or for creating additional seating options. These versatile pieces can be easily moved and rearranged to suit your needs, making them a practical and stylish addition to any outdoor area.
When choosing a patio table, bistro set, or bar table, consider the material, style, and size that best fits your space and complements your existing patio furniture.
Caring for Your Patio Furniture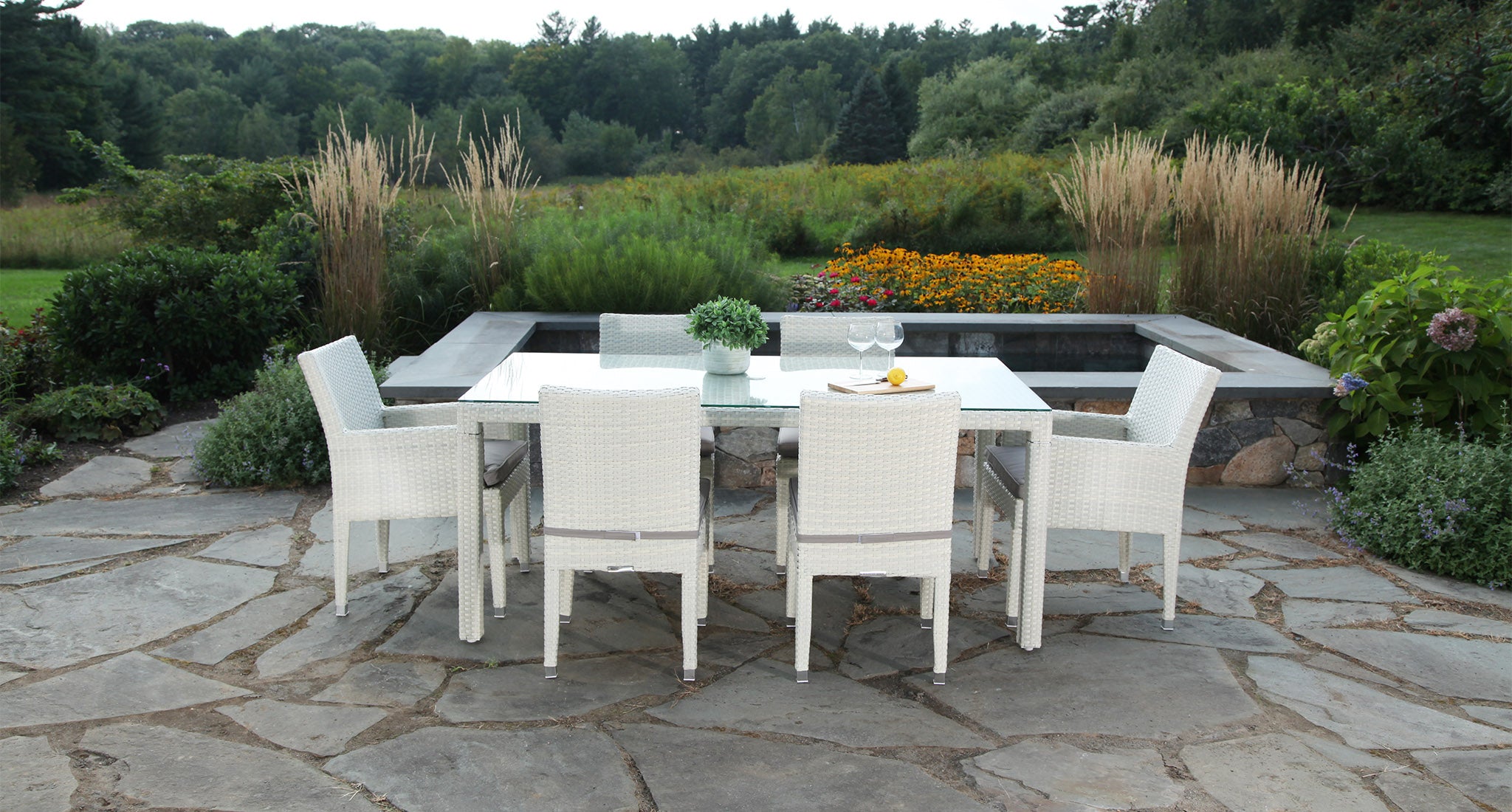 Proper care is necessary to maintain the top condition of your patio furniture and to ensure its longevity over numerous seasons. This involves regular cleaning and maintenance, as well as taking steps to protect your investment from weather-related damage.
Adhering to a few simple guidelines ensures that you can derive pleasure from your outdoor furniture for the foreseeable future.
Cleaning and Maintenance Tips
Regular cleaning and maintenance will help prolong the life of your patio furniture, with specific care depending on the material used. For example, wood furniture requires annual maintenance to keep it looking great, while metal furniture can be easily cleaned with a cloth or sponge and mild soap.
Plastic resin surfaces can be quickly sprayed and wiped with an all-purpose cleaner or hosed down for a more extensive clean. Cleaning your patio furniture at least twice a year can ensure optimal use and enjoyment.
Protecting Your Investment
Protect your patio furniture from weather damage by using covers, storing it during off-season months, or placing it in a shaded area when not in use.
Polyester and vinyl covers provide excellent protection against the elements, while acrylic or other synthetic performance fabric covers offer great durability.
Taking these precautions helps in preserving the longevity and appearance of your patio furniture, ensuring continued enjoyment of your outdoor space for many years.
Maximizing Comfort and Style with Accessories and Accents
Elevate your outdoor space with accessories and accents that infuse comfort and style into your patio furniture. This includes outdoor cushions and pillows, rugs and floor coverings, and lighting options that create ambiance and set the mood for your outdoor gatherings.
Outdoor Cushions and Pillows
Outdoor cushions and pillows are a great way to add comfort and style to your patio furniture, including outdoor sofas. Choose cushions made from high-quality outdoor fabrics, such as solution-dyed olefin or solution-dyed acrylic, which are both durable and weather-resistant.
Look for cushions with quick-drying foam and covers that are fade-resistant to ensure a lasting, vibrant look.
Rugs and Floor Coverings
Rugs and floor coverings not only add comfort underfoot but also help define your outdoor space. When selecting a rug, consider the size and style of your outdoor area, as well as the function and durability of the rug material.
A larger rug can make your space appear more expansive, while a smaller rug might make the area seem more intimate. Experiment with different designs, patterns, and materials to find the perfect rug that complements your patio furniture and enhances the overall aesthetic of your outdoor space.
Lighting and Ambiance
Lighting plays a significant role in creating the perfect atmosphere for your outdoor space, allowing you to enjoy your patio well into the evening. There are various lighting options available to suit your style and preferences, including:
String lights

Lanterns

Pathway lights

Fire pits
By incorporating these lighting elements, you can create a warm and inviting ambiance that enhances the overall experience of your outdoor gatherings.
Buy Your Patio Furniture At Madbury Road Today!
Discover a wide range of high-quality patio furniture options at Madbury Road, with expert advice and guidance to help you create the perfect outdoor space. From modular outdoor furniture to stylish and durable materials, Madbury Road offers superior products at competitive prices.
Don't miss the opportunity to explore their impressive selection and receive personalized assistance in finding the right patio furniture for your needs. Shop at Madbury Road today and start enjoying your dream outdoor space!
Summary
In conclusion, selecting the perfect patio furniture for your outdoor space involves understanding the various materials available, assessing your outdoor area, considering function and usage, and finding a balance between style and comfort. By following the guidelines and tips provided in this blog post, you can create an inviting and functional outdoor space that reflects your personal style and meets your needs. Don't wait any longer; start transforming your outdoor area into a cozy haven for relaxation, dining, and socializing with the help of Madbury's high-quality patio furniture.
Frequently Asked Questions
What is the first thing you should consider when selecting patio furniture?
When selecting patio furniture, consider the size of your space first and determine if you want cushions for added comfort.
What accessories and accents can enhance my outdoor space?
Enhance your outdoor space with cozy and stylish accents like cushions and pillows, rugs, floor coverings, and lighting options such as string lights, lanterns, and fire pits.