When it comes to enhancing your outdoor spaces, the importance of durability and weather resistance in your choice of patio furniture cannot be overstated. Whether you're in the process of creating an inviting patio oasis or crafting a cozy backyard retreat, selecting the best patio furniture is paramount to ensure your investment stands the test of time.
In this comprehensive guide, we'll take you on a journey through everything you need to know about choosing the best all-weather outdoor furniture that perfectly combines style, functionality, and longevity. From selecting the ideal dining table for al fresco meals to finding the perfect coffee table for your outdoor lounging area, we've got you covered.
Our goal is to help you curate an outdoor space that not only meets your aesthetic desires but also withstands the elements, ensuring that your outdoor haven remains a source of relaxation and enjoyment for years to come.
Choosing the Best All-Weather Outdoor Furniture: A Comprehensive Guide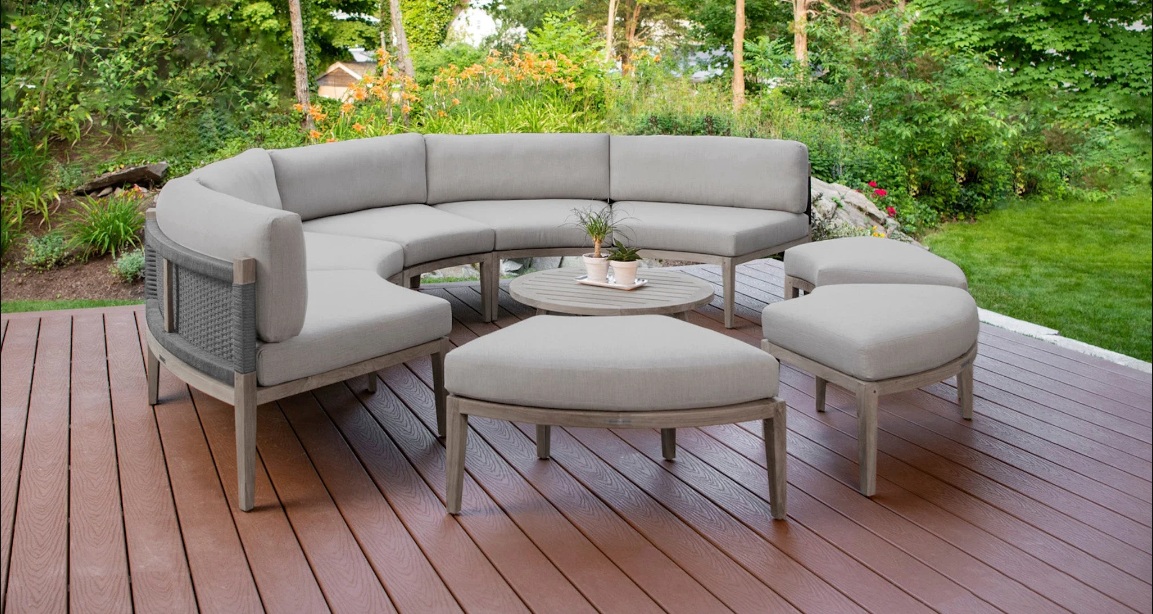 When you're ready to transform your outdoor space into a comfortable and stylish haven, it's crucial to make informed decisions. The following guide covers every aspect of selecting patio furniture that's suitable for all seasons, guaranteeing that you have the best patio furniture to make your outdoor space inviting and functional year-round.
Assessing Material Durability
The choice of materials greatly influences the longevity of your patio furniture. Opt for materials like teak, aluminum, wrought iron, and synthetic resin that are known for their ability to withstand varying weather conditions. These materials are resistant to moisture, rust, and fading, making them excellent choices for best outdoor furniture that will keep your outdoor space looking great year-round.
Weather-Resistant Fabrics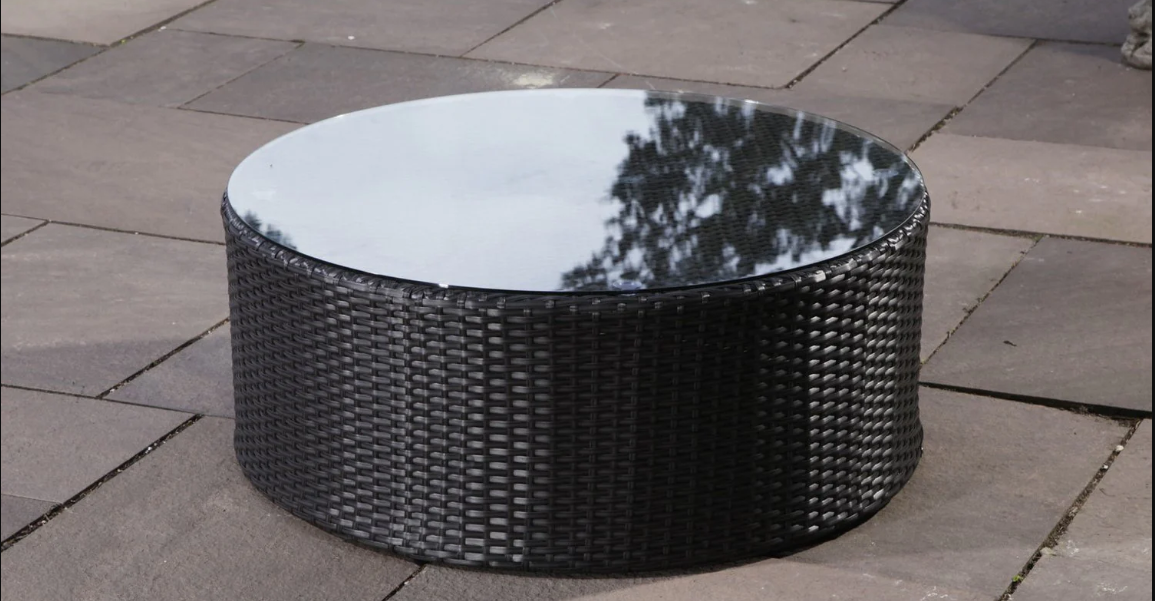 While the furniture frame is essential when choosing your patio furniture, don't overlook the importance of weather-resistant fabrics, especially when selecting the best patio furniture for your outdoor patio.
Cushions and upholstery made from fabrics like Sunbrella offer excellent fade and water resistance, ensuring that your seating, whether it's a cozy dining table set or a stylish coffee table ensemble, remains comfortable and vibrant even after exposure to rain and sunlight.
These fabric choices are a key consideration in maintaining the longevity and aesthetics of your outdoor patio furniture.
Style and Aesthetics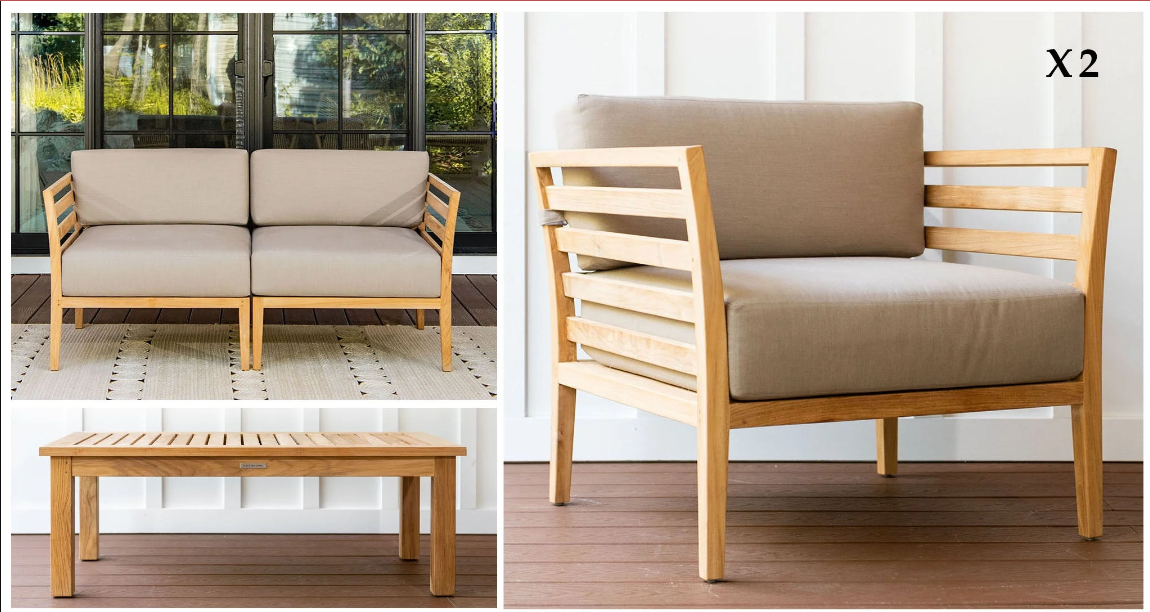 Functionality meets style in the realm of outdoor living. From classic to contemporary, there's a wide range of designs to suit your taste when you're looking for the best outdoor patio furniture.
Opt for furniture that complements your outdoor space's aesthetics, whether it's a cozy cottage garden or a modern urban terrace. When you decide to buy patio furniture, consider how well it blends with your existing indoor furniture to create a seamless transition between your indoor and outdoor spaces.
Size Matters
Before making a purchase, carefully measure your outdoor space. Oversized furniture can overwhelm a small area, while undersized pieces might look lost in a larger space. Take note of dimensions and layout to ensure a harmonious arrangement.
Easy Maintenance
Outdoor furniture should be easy to maintain to preserve its beauty. Look for furniture that requires minimal upkeep, such as materials that can be easily wiped clean or treated with protective coatings.
Furniture Placement
Consider where you'll place your outdoor furniture. Will it be exposed to direct sunlight, rain, or wind? Opt for materials that can withstand the specific weather conditions in your area. If possible, provide shelter or invest in furniture covers to extend their lifespan.
Sustainability and Eco-Friendly Options
If sustainability is a priority, explore eco-friendly outdoor furniture options. Sustainable materials like FSC Certified wood or recycled plastic offer a guilt-free way to enjoy your outdoor space while minimizing environmental impact.
Testing for Sturdiness
Before purchasing, test the furniture's sturdiness. Give it a gentle shake and ensure it's well-constructed and doesn't wobble. Sturdy furniture not only lasts longer but also provides a safe and comfortable seating experience.
Top Picks: Our Recommendations
Teak Patio Set: Teak wood is naturally resistant to water, insects, and rot, making it an ideal choice for outdoor furniture. Its timeless elegance and durability make teak patio sets a popular option.

Aluminum Dining Set: Lightweight and corrosion-resistant, aluminum sets are easy to move around and require minimal maintenance. They're available in various styles, from modern to traditional.

Wicker Lounge Set: Synthetic wicker offers a classic look while being highly resistant to UV rays and moisture. Wicker lounge sets provide comfort and charm for your outdoor relaxation area.
FAQs
How do I know if outdoor furniture is all-weather?
All-weather outdoor furniture is typically made from materials that resist moisture, fading, and rust. Look for materials like teak, aluminum, and synthetic resin. Additionally, check if the furniture is treated with weather-resistant coatings.
What's the best way to clean and maintain outdoor furniture?
Regular cleaning with mild soap and water is usually sufficient. For metal furniture, check for rust spots and treat them promptly. Consider using furniture covers when not in use to protect against the elements.
Can I leave all-weather furniture outside during the winter?
While all-weather furniture is designed to withstand various weather conditions, it's still a good idea to provide some protection during harsh winters. Consider covering or storing your furniture in a dry place to extend its lifespan.
Are there eco-friendly options for outdoor furniture?
Yes, there are eco-friendly options available. Look for furniture made from sustainable materials like reclaimed wood or recycled plastic. These options reduce environmental impact while still providing durable outdoor furniture.
How can I add comfort to outdoor seating?
To enhance comfort, invest in cushions and pillows made from weather-resistant fabrics. Brands like Sunbrella offer cushions that are both comfortable and highly durable.
What's the typical lifespan of all-weather outdoor furniture?
The lifespan of outdoor furniture depends on the materials used and how well it's maintained. High-quality furniture made from durable materials can last anywhere from 5 to 15 years or even longer.
Why Choose Madbury Road When Choosing The Best All-Weather Outdoor Furniture Set
When it comes to elevating your outdoor living experience, Madbury Road emerges as the premier choice for those seeking the best patio furniture in the category of outdoor furniture.
Discover why Madbury Road is synonymous with outdoor furniture excellence, offering superior quality, unmatched durability, stylish design options, and the utmost in outdoor comfort.
Explore why Madbury Road is the brand of choice for transforming your outdoor space into a year-round haven of style and relaxation, making it the best outdoor seating solution for your patio furniture needs. Get Your All Weather Furniture Set Today!
Summary
Choosing the best all-weather outdoor furniture involves a thoughtful balance between style, durability, and functionality. By considering material durability, weather-resistant fabrics, style, maintenance, and other key factors, you can create an inviting outdoor space that's ready to withstand the elements for years to come.
Choosing the best patio furniture and best outdoor furniture for your outdoor space involves a thoughtful balance between style, durability, and functionality. By considering material durability when selecting your patio furniture, weather-resistant fabrics for your outdoor sofas, style preferences for your dining table, and maintenance requirements, you can create an inviting outdoor space that's ready to withstand the elements for years to come.